Christmas Hampers
Sell Christmas food and gift hampers and earn commission for each one you sell from catalogues and companies like Park:
Christmas hampers are great fun and can provide great value. Their cost can be spread over a period of weeks or months with small weekly payments. Companies need agents to help sell hampers in their local area and to collect these regular payments. This article will discuss the pros and cons of being an agent and will provide links to various companies where you can seek work.
Over £100,000 of vouchers to be won - everyone's a winner!
Hamper Companies
Commission levels can as high as 30% and top sellers get further bonuses like free shopping vouchers. The work suits people seeking part time work that can fit in with another job, child care and household duties. It is ideally suited to people with children or a retired person wanting to get out and about meeting people. You will need to deliver the catalogue or leaflets to customers and work at building a customer base. The catalogues are usually free to order so you can leave these with potential customers to peruse in the comfort of their home.
Christmas Hamper Catalogues
You will have to collect money from people and will have to be comfortable carrying sums of money in public places. This money will then need to be banked or sent to the Christmas hamper catalogues company at regularly agreed intervals. You may need to deal with people who say they cannot afford a payment or miss regular payments. At times you may have to act as an intermediary between customers and the company in times of dissatisfaction or disputes.
These will be balanced against regular satisfied customers who love their goods and may order another. They are usually delivered to you to distribute amongst your customers. When you deliver them to each customer you can built up a professional relationship and leave information for next year.
The
delivering catalogue jobs
page will give you advice to help you increase your earning potential.
Follow us on Twitter:
Follow @findextrawork
I have published a book which tells the story of The Grey Lady Ghost of the Cambridge Military Hospital which reveals her origins in the QAIMNS and where she meets a QA veteran of Afghanistan. She still walks her wards and tells her story by taking Scott Grey, a QARANC nurse, to the battlefields of World War One and beyond. This is the first in the series of Grey and Scarlet Novels by CG Buswell.
Read the first chapter for free.
Sell Christmas Hampers
Income from selling should be declared to the income tax office on your annual self assessment form. Expenses such as transport costs, office supplies, phone calls, etc can be offset on your expense sheet.
Park Hamper
The Park Hamper Group has been run since 1967 from a family butcher, Peter Johnson. Customers can save weekly and agents are required to help collect this money and distribute the food, sweets, drinks, meat packs, grocery and gifts. Agents are paid a commission based on sales and there are incentive awards for top sellers. For more information visit their website at either www.parkgroup.co.uk or www.getpark.co.uk
This Christmas saving scheme should not be confused with Farepak which is described further below.
The
Christmas jobs
page will give you more ideas to earn money.
If you like this page and would like to easily share it with your friends and family please use the social buttons below:
Tweet
If this has not answered your questions or you need some more advice then please e-mail me. I would also welcome any advice to increase the information to make it more useful to others. I would also appreciate it if you were to send our link to your friends, forums and social media.
Automatically add us to your favourites folder -
Bookmark Us
. We update weekly with new earning opportunities.
Farepak Hampers
:
In March 2007 an official investigation that was commissioned after the collapse of Farepak when over 113,000 families lost approximately £39 million savings gave its findings. The Government's financial inclusion taskforce, led by Chairman Brian Pomeroy, gave its findings to Mr Ian McCartney, the Consumer Minister. It is hoped that the recommendations will help form changes in law so that no other saving scheme can collapse and cause people to lose money.
According to administrators it is thought that those affected may only get back about 4 pence in the pound. The firm's collapse is still being investigated by the Government's Companies Investigations Branch.
The company went into administration on the 13 October 2006. There is information about Choice Vouchers, direct debits and help for agents and customers at the website which is now acting as an info forum and complaints help.
Updates can be found on the news about the Rescue Plan by the British Retail Consortium (BRC) which may involve companies and shops like Halifax Bank of Scotland (HBOS), Sainsbury, M&S and more top retailers helping those affected by the collapse so that they my receive either money or shopping vouchers.
Information can also be found on the unfairpak website which is run by former customers and agents. The government also set up a Farepak Response Fund and paid out 17 pence to every £1 saved.
It is estimated that there will be over 123,000 customers and between them they are owed £38 million. The administrators are BDO Stoy Hayward and they estimate that once Farepak go into liquidation and the liquidators are able to release information questions such as why Farepak collapsed will be answered. This can take some time: a typical company in administration may have less that 1000 creditors whilst Farepak have about 122,000.
As a result of this collapse the Park Group have set up an independent Park Prepayments Protection Trust. Two f the three trustees are independent of the Park Group.
Save Xmas
In July 2007 the Office of Fair Trading (OFT) launched a new drive in Edinburgh to help the UK victims of the Farepak savings scheme collapse and other savers thinking of using a Christmas savings scheme. This UK wide Save Xmas Campaign gave information on credit unions, supermarket saving schemes, banks and local savings initiatives. The OFT worked with organisations such as Surestart, Citizens Advice and DWP groups in an effort to reach as many people as possible in communities throughout Britain. In addition the Save Xmas Campaign ran TV commercials, radio adverts and posters and leaflets to raise awareness.
The information below was written prior to this news and will be updated once the company position has been clarified. For the moment the advice should be ignored.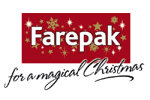 Farepak Hampers was a company that sought agents to help them sell their seasonal goods such as food, drinks, confectionery, gift vouchers and giftss. In addition they paid commissions on orders of fragrances, jewellery, gifts, experience and activity days out like hot air ballooning, a family portrait or a flying lesson. In addition you could earn from the sales of cards, decorations, box set videos and DVDs, jewellery such as rings and necklaces, toys and games, collectables such as ornaments, bicycles, go-karts, furniture such as sofas, musical instruments such as guitars and keyboards, juke boxes, music centres, televisions, DVD players, digital cameras and much more.
They had been in operation since 1969 and were based at Swindon and were a part of the
Kleeneze
company. There were over 35,000 agents and had earned the reputation of being safe and reliable.
The collapse had long term problems for others and was said to harm the reputation of many reputable Christmas hamper companies. For example the Christmas savings club Park Group at parkgroup.co.uk and at getpark.co.uk saw a slump immediately after the news of Farepak going into administration broke. About a third of their customer numbers were lost as confidence in this form of Xmas savings club was lost. Fortunately Park Group recovered and one year later approximately 38,000 agents were working with ParkGroup and orders for the next year were 17% higher. By the next season the Park Group were taking orders and now have over 4440,000 customers and over 102,000 agents who help their customers to spread the cost of vouchers and other goods through monthly payments.
In February 2011 the Government's Insolvency Service applied to the court to disqualify the former Directors of Farepak. This would mean they would be barred from being Directors of companies again.
Earn Shopping
»
Cash Back
»
Mystery Shopping
»
Test Products
»
Customer Complaints - How To Complain About Bad Service
»
Coupons
Giveaways
»
DVD Rental By Post
»
Cat Food and Coupons
»
Dog Food Samples
»
Books Sent To You
»
Brochures
»
Cinema Ticket
»
Magazines
»
Shampoo Samples By Mail
Sell
»
Auctions
»
Old Used Clothes
»
Flowers And Plants From Your Garden
»
Kleeneze Reviews
»
Kleeneze Cleaning Products
»
Business Opportunity - Work For Yourself
»
Delivering Catalogues
»
Commission Advice
»
Kleeneze Questions and Answers
»
Make Up - Join Avon as a Representative
»
Betterware Distributor
»
Body Shop Consultants Care - Beauty Parties
»
Partylite Candles
»
Hampers – Park Company
»
Pampered Chef Company Consultant - Party Planning
»
Old Mobile Phones
»
Photographs To Magazines And Newspapers
»
Usborne
»
Cosmetic Virgin Vie Make Up
Out And About
»
Put Adverts On Your Car
»
Cleaner
»
Deliver Leaflets – Flyer Drop
»
Dog Walking
»
Fast Food Delivery Driver
»
House Sitting
»
Freelance Interpreter - Translation Employment
»
Teaching Night School Adult Classes
»
Report Crime For Rewards
»
Strawberry Picking
»
Test Drive
Finance
»
Low Interest Debt Consolidation Loans
Google+
Facebook
Twitter