House Sitting Jobs UK
Become a house sitter in the UK and live in and look after a home and get paid for sitting jobs and duties: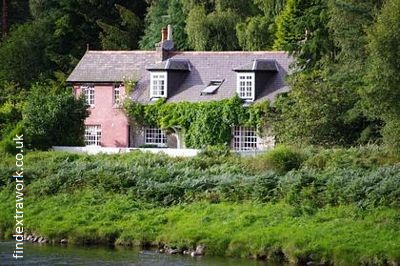 It is possible to earn an extra income from looking after someone's property. This can either full time where you will live in, perhaps do some light cleaning or go in at agreed intervals to check the building is secure and safe.
It is more common to live in it whilst the owner is away on holiday or working abroad. Other house sitting jobs UK would be to pay for someone to check out a building whilst the owners are temporarily away, such as in hospital.
Over £100,000 of vouchers to be won - everyone's a winner!
Some combine this with looking after pets such as dogs who they do not want to send to boarding kennels. This is discussed in the
dog walking work
section.
They provide a valuable service by giving them the reassurance that a trusted and capable person is looking after their building, plants, garden, upkeep, pets and possessions.
Another reason that people like to have one is because it represents sizeable investment and they want the protection that they can provide. But this is not the only reason for the rise in the UK. There are many more personal reasons that they need someone to live whilst they are away. For example those on extended business trips may like the assurance of someone being there. At the other end of the scale someone may be needed after the death of the occupier so that the building can be kept clean, tidy, fresh and lived in whilst people look round it for sell. The surviving relatives who may live afar have the assurance that it and their inheritance is being looked after safely, especially at night and not at risk from burglars, vandals or squatters.
It is much more than minding that is a lower paid and less time consuming job which is about popping in to water plants, remove the post from the letterbox or front mat, check around, close or open curtains and switch on or off lights at set times to make it look lived in.
House Sitter
Most home sitters gain work from word of mouth and have built up their own list of clients who will regularly employ them throughout the year. They may have initially advertised in local newspapers or replied to an advert.
There are agencies you can register with for these roles and I will put their links on this page soon. In the meantime local home sitting agencies can be found in the yellow pages. It could be worth finding national agencies if you don't mind travelling. This will give you more work and you should be able to charge travelling expenses to the employer. Alternatively travelling expenses can be offset on your self assessment form to the inland revenue. Any income earned should be declared on the self assessment form.
House Sitting
It is better suited to single people. Couples can do this, especially for larger ones where one partner can care for the garden whilst the other does the cleaning. You should discuss this and include it in your contract. Most won't mind a couple and may agree to this on the condition that they only pay for one person. Many are retired people who like to get out and about to new areas and meet new people and pets.
Duties Of A House Sitter
The duties of a house sitter can vary depending on your contact, the people you work for and any agency used to gain the work. It usually includes:
Picking up mail and newspapers


Feeding, grooming and walking pets


Watering Plants


Light gardening duties like cutting the grass


General work like dusting and vacuuming


Arranging emergency repairs like burst water pipes


Opening and closing blinds and curtains to make rooms look occupied


Turning over the engine of a car
Length of work can vary from overnight, one or two weeks to several months.
You should agree to any periods of being away and if the contract is for one or two weeks you should be able to get up to 3 hours away for several days. If the work is for several months you may also want to agree to one or two nights away for any holidays or visits you need to take. You should also discuss if you can bring guests and friends. No-one should expect you to live in social isolation for a one month job, but neither do they expect you to bring strangers and have a party.
Follow us on Twitter:
Follow @findextrawork
I have published a book which tells the story of The Grey Lady Ghost of the Cambridge Military Hospital which reveals her origins in the QAIMNS and where she meets a QA veteran of Afghanistan. She still walks her wards and tells her story by taking Scott Grey, a QARANC nurse, to the battlefields of World War One and beyond. This is the first in the series of Grey and Scarlet Novels by CG Buswell.
Read the first chapter for free.
It is normal for an owner to provide a detailed inventory which should be checked as soon as possible. It provides reassurance for both parties that any losses or breakages can be accounted and prevents any future misunderstandings.
It is also normal during long term duties, such as those working abroad for long term contracts, to have the agency manager or elected representative to come to the place of work to check on the employee and the environment. This gives the owners peace of mind and gives you personal contact with the agency.
The cost and supply of food should be discussed beforehand. Some will provide a full fridge and freezer.
The paying of bills must also be discussed, especially for longer stays. Most will set up direct debit payments for bills like the gas or electric and perhaps even the telephone bill. It is a good idea to discuss the use of the phone and how any calls you make are to be paid.
Do check that there is building, contents and pet insurance and you know how to contact the insurer. You may want to take out your own liability insurance in case you spill something on a carpet or accidentally break something of value. The cost of the insurance can be offset as a tax expense.
There are no qualifications or skills needed but you will be in a position of trust though. You have the run of a building which has been entrusted to your care. So whilst you will be permitted to go into most rooms to check for safety and to make sure there has been no break ins - it does not give you the right to go through personal belongings such as paperwork or drawers and cupboards.
When you know the owners will be back try and make time to clean. Leave some bleach down drains and sinks. Clean the toilet and leave bleach in the bowl. Place fresh flowers (claim these as a tax expense) in the lounge or hallway. Generally vacuum and dust. Have it ready for the owners to walk in, unpack their cases and relax. By doing this you may get return work and they are more likely to recommend you to their friends and family.
It is enjoyable work which would suit a single person or a couple with time on their hands. It gets you out and about, often to new areas. You will receive free accommodation and often free food, a change of scene which can be looked upon as a paying holiday. As well as making new friends of the neighbours and pets you will get a bit of peace and quiet.
If you like this page and would like to easily share it with your friends and family please use the social buttons below:
Tweet
If this has not answered your questions or you need some more advice then please e-mail me. I would also welcome any advice to increase the information to make it more useful to others. I would also appreciate it if you were to send our link to your friends, forums and social media.
Automatically add us to your favourites folder -
Bookmark Us
. We update weekly with new earning opportunities.
Farm Sitting
Farm sitting is popular in countries such as New Zealand and Australia and is thought to be a growing need in the UK. Rates of pay and vacancies in England, Scotland and Wales will be included soon.
Paid House Sitting Jobs
If you would like your website and details listed on this page for free then please
contact me
. In particular I would like to hear from house sitting agencies in the following towns and city's: London, Edinburgh and Manchester.

There are paid house sitting jobs available throughout England with the Norwich based home sitting company Guardian Angels. There are also vacancies for those with a love of animals to pet sit, pet visit or pet board in your own property. Guardian Angels are expanding throughout the various counties of England such as Hampshire, Kent, Berkshire, Hertfordshire and Surrey and are constantly recruiting staff to fill their home sitting vacancies. There are now over 1200 staff working for Guardian Angels.
Those interested should visit the Guardian Angels website at www.g-angels.co.uk for more information and an online application form.
A Guardian Angel can expect to be offered assignments that suit their lifestyle, profile, interests, preferences and abilities from g-angels.co.uk and this includes full or part time home sitting work.
Guardian Angels have been helping people since 2002 and because they are a Limited Company GuardianAngels will cover you with their employment terms and conditions. This extends to comprehensive insurance through the g-angels.co.uk employers and public liability insurances. Unlike other agencies you are not considered self employed or a sub contractor, but are an employee. This affords you more employment rights, protection and perks like other employees. Though you still have self employed advantages such as working from home when you pet visit or pet board. Those who home sit will be further rewarded with a wide range of locations and travel opportunities throughout England such as Norfolk, Suffolk, Buckinghamshire, London, Middlesex, Cambridgeshire and Essex.
For more information or to apply to the vacancies visit the Guardian Angels website at www.g-angels.co.uk
Looking After A House
More looking after a house jobs are available at Pet and Property Sitters who are a House Sitting UK company based in Harrogate in the North of England. They are seeking reliable pet sitters who can live in for weeks at a time in areas such as North Yorkshire, West Yorkshire, East Yorkshire, South Yorkshire, Lancashire, Cumbria, North East England, Lincolnshire and Cheshire. This pet sitting service will involve looking after the property as well as a pet such as a dog or cat.
They are not an agency and employ sitters directly and enjoy building a personal relationship with their employees. They are a family company with over 14 years experience. They would like to employ single people and couples who are looking for a change of scene whilst caring for family animals and pets. Examples include retired people with grandchildren looking to supplement their pension or those who usually live abroad and would like to combine earning whilst staying somewhere new in the UK.
Some property sits can be as short as a long weekend, while others range from a week to a month or longer. Sitters are provided with a provisions allowance and travelling expenses. A preliminary visit is always arranged prior to each new sit so that you can be sure you are happy to stay there and know what is involved.
For more information visit their website at www.petandpropertysitters.co.uk or telephone Elizabeth Liddle on 01423 817867.
Security Industry Authority
It is a service which the Security Industry Authority (SIA) regards as providing a security service and therefore people undertaking this service are required by law to be licensed and hold an SIA Security License. Unlicensed people can be fined and receive a jail term. For more information about getting a Security Industry Authority (SIA) licence please visit www.sia.homeoffice.gov.uk
Though there may be additional cost and training involved it does mean that this SIA training and licence can go on your CV and may help you to secure more employment whilst giving your prospect employers more security and assurance.
Although some house sitters work for free in return for accommodation, food, etc this may still be seen as a form of financial gain and a Security Industry Authority licence may still be needed. Please check with sia.homeoffice.gov.uk for more expert advice.
Half Broken Things
It is not often that it is on a television programme but on Sunday 28 October 2007 ITV broadcast the drama Half Broken Things. It starred actress Penelope Wilton (Doctor Who, Five Days, Shaun of the Dead, Calendar Girls, Wives and Daughters, Bob and Rose, The Borrowers, Ever Decreasing Circles) as the character Jean who is a housesitter. Half Broken Things was based on a novel by Morag Joss. On her latest job Jean fell in love with the English country manor house and started to consider it her own. When she is dusting an antique teapot she knocks it over and it breaks revealing keys and she sees this as a sign. This is Jean's last employment because she is 60 soon and will have to retire. Now it is hers in her mind. So much so that she welcomes in two strangers, a thief called Michael (played by actor Daniel Mays - The Bank Job, Atonement, The Best Man, The Secret Life of Words, Funland) and a pregnant woman called Steph (actress Sinead Matthews - Ideal, Trial and Retribution, Hogfather) who is hiding from her abusive boyfriend. The trio form a bond and begin to live in the housesitting home as if they were a family. Steph gives birth to baby Mathew and they live in splendid isolation as a self sufficient family unit. Jean starts to wear the clothes of the wife who really owns the Manor and destroys the family photos. They run out of heating oil and groceries from the deep chest freezer and start to look through the bank account statements. Michael and Steph find the banking account password so that they can transfer money online. All is well until baby Mathew dies from cot death and the new family bury his body in the garden under a flowering bush. Things start to go wrong for them in Half Broken Things and the past soon catches up with them as tragedy strikes.
It can also be called House Caretaker, housekeeping and guardian house-sitting.
Earn Shopping
»
Cash Back
»
Mystery Shopping
»
Test Products
»
Customer Complaints - How To Complain About Bad Service
»
Coupons
Giveaways
»
DVD Rental By Post
»
Cat Food and Coupons
»
Dog Food Samples
»
Books Sent To You
»
Brochures
»
Cinema Ticket
»
Magazines
»
Shampoo Samples By Mail
Sell
»
Auctions
»
Old Used Clothes
»
Flowers And Plants From Your Garden
»
Kleeneze Reviews
»
Kleeneze Cleaning Products
»
Business Opportunity - Work For Yourself
»
Delivering Catalogues
»
Commission Advice
»
Kleeneze Questions and Answers
»
Make Up - Join Avon as a Representative
»
Betterware Distributor
»
Body Shop Consultants Care - Beauty Parties
»
Partylite Candles
»
Hampers – Park Company
»
Pampered Chef Company Consultant - Party Planning
»
Old Mobile Phones
»
Photographs To Magazines And Newspapers
»
Usborne
»
Cosmetic Virgin Vie Make Up
Out And About
»
Put Adverts On Your Car
»
Cleaner
»
Deliver Leaflets – Flyer Drop
»
Dog Walking
»
Fast Food Delivery Driver
»
House Sitting
»
Freelance Interpreter - Translation Employment
»
Teaching Night School Adult Classes
»
Report Crime For Rewards
»
Strawberry Picking
»
Test Drive
Finance
»
Low Interest Debt Consolidation Loans
Google+
Facebook
Twitter