Play Quizzes
How to earn money or win prizes when you play trivia quizzes online, on television or at the pub:
If you have a good grasp of general knowledge and love playing quizzes then why not try earning from them. You can do them on the internet, in pubs, at home doing competitions and even on television.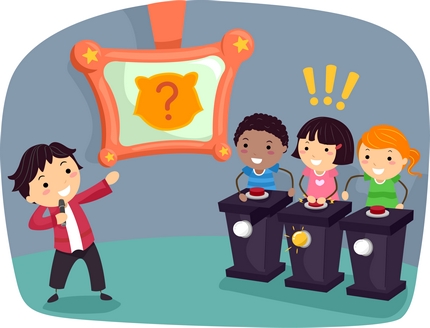 Trivia Quizzes Online
There are many websites on the internet where you can play trivia quizzes online. An example is the Get Me A Ticket website. Most offer prizes as a way to entice you to register. Subjects include Big Brother, the World Cup, Television, Films and Sports, etc. These make their profit from adverts and you may have to put up with banner ads in between answering questions. They also ask for an e-mail address so that they can add you to their mailing list and send you adverts and offers. You can get round this by using a specific e-mail address just for this purpose. A hotmail account is useful for this. The disadvantage of this is that you will have to check this account for winning e-mails.
Over £100,000 of vouchers to be won - everyone's a winner!
Prizes are usually sponsored and can be quite good and often include cash. There are real winners and most websites have a page where they publish the winners names.
The quiz answers tend to be easy to begin with and get progressively harder. Bear with them and take your time to answer the quiz questions to get a better chance to win the free prize. Some play trivia online sites even have wild card prizes that will award someone who gets to a certain position for that day. This could even be set to the person with the lowest score.
Other quiz websites will allow you to take them throughout the day or to return several times a week and build up points. At the end of a set period, such as a month, they will award the top scorers.
The chances of winning are probably a little bit better than those given to normal
internet competitions
because there is a little bit of skill and knowledge required. They are fun and general knowledge buffs will like the challenge of beating the computer and you could win.
Pub Quizzes
Entrants to pub quizzes will pay a small fee to enter and get a quiz sheet. This is pooled together and awarded to the winner and sometimes a lesser prize to a runner up. It is normal to have a team, usually of four people. The advantage of play quiz games at the pub is that more minds usually mean more correct answers - or more arguing over who thinks they have the right answer. The disadvantage is that the more people there is in the pub quiz means a lesser share of the prize cash.
Follow us on Twitter:
Follow @findextrawork
I have published a book which tells the story of The Grey Lady Ghost of the Cambridge Military Hospital which reveals her origins in the QAIMNS and where she meets a QA veteran of Afghanistan. She still walks her wards and tells her story by taking Scott Grey, a QARANC nurse, to the battlefields of World War One and beyond. This is the first in the series of Grey and Scarlet Novels by CG Buswell.
Read the first chapter for free.
It can be a bit of a costly when you have to buy a round at the bar and even if you win your team may drink away the profits. However if you enter them for a laugh and a night out then you are still a winner.
There are people who will travel around different pubs and bars entering them purely for profit. Owners don't often like these entrants - they don't usually join in the fun and don't buy many drinks. Their aim is to win, take the winnings and move onto the next pub quiz. There are even stories of publicans and landlords who ban such well known trivia professionals. They consider that locals deserve to win and that they take the fun out of events.
They are great fun, a social event and winning them will pay for a great night out and maybe a bit of change.
Play Trivia
There are quiz sheets that you can fill out at home and hand back to be judged for prizes. Common providers are charities looking to raise funds for their good causes. For instance they will print out a quiz sheet and sell it for say £1. They will then award a percentage of the sales to the prize fund. So you could win say £100, with runner up prizes of say £20 and £10. If the charity sells 200 of them they will have incurred minimal costs of paper and ink and the time spent for someone to design them and print them out. Volunteers usually sell them to friends and family. So the charity makes £200 less the minimal costs which gives them a profit of about £60. They provide a bit of fun, three winners get lucky and people help the charity finacially.
Other opportunities could be in competitions from magazines and newspapers and even general knowledge crosswords. These usually have cash prizes of anything from £10 to £500.
The advantage of filling them out at home is that you can take the time to research the answers from your reference books or the internet. There is normally a time limit to play quizzes but you will have enough time to do the research and fill the form out neatly and post it back or hand it to the quiz master.
If you like this page and would like to easily share it with your friends and family please use the social buttons below:
Tweet
If this has not answered your questions or you need some more advice then please e-mail me. I would also welcome any advice to increase the information to make it more useful to others. I would also appreciate it if you were to send our link to your friends, forums and social media.
Automatically add us to your favourites folder -
Bookmark Us
. We update weekly with new earning opportunities.
Television Quizzes
Television quizzes is where the higher values are - especially if you can get onto a programme like Who Wants To Be A Millionaire. You will need to be comfortable answering with a live audience watching your every move and listening to your every word. They are worth the stress through - winnings can range from hundreds, through to thousands of pounds. There is even the chance of winning the coveted million pound jackpot. There is more information and advice about quiz and game shows on the
be on TV game show
page.
Quizzes For Money
I am unsure of the tax implications of winning. Prizes for holidays, cars, games, DVDs, etc are probably not taxable but cash prizes won may have to be declared to the tax office on your income tax self assessment return. I would recommend phoning your local tax office for advice if you win.
Take part for prizes but above all do them for fun and to challenge your general knowledge and to learn.
Earn Shopping
»
Cash Back
»
Mystery Shopping
»
Test Products
»
Customer Complaints - How To Complain About Bad Service
»
Coupons
Giveaways
»
DVD Rental By Post
»
Cat Food and Coupons
»
Dog Food Samples
»
Books Sent To You
»
Brochures
»
Cinema Ticket
»
Magazines
»
Shampoo Samples By Mail
Sell
»
Auctions
»
Old Used Clothes
»
Flowers And Plants From Your Garden
»
Kleeneze Reviews
»
Kleeneze Cleaning Products
»
Business Opportunity - Work For Yourself
»
Delivering Catalogues
»
Commission Advice
»
Kleeneze Questions and Answers
»
Make Up - Join Avon as a Representative
»
Betterware Distributor
»
Body Shop Consultants Care - Beauty Parties
»
Partylite Candles
»
Hampers – Park Company
»
Pampered Chef Company Consultant - Party Planning
»
Old Mobile Phones
»
Photographs To Magazines And Newspapers
»
Usborne
»
Cosmetic Virgin Vie Make Up
Out And About
»
Put Adverts On Your Car
»
Cleaner
»
Deliver Leaflets – Flyer Drop
»
Dog Walking
»
Fast Food Delivery Driver
»
House Sitting
»
Freelance Interpreter - Translation Employment
»
Teaching Night School Adult Classes
»
Report Crime For Rewards
»
Strawberry Picking
»
Test Drive
Finance
»
Low Interest Debt Consolidation Loans
Google+
Facebook
Twitter