Money Off Coupons
Where to find money off coupons for supermarkets and free printable ones on the internet and how to use them to your advantage
There are many which can be found on the internet and out and about in shops, stores and from including yourself on mailing lists.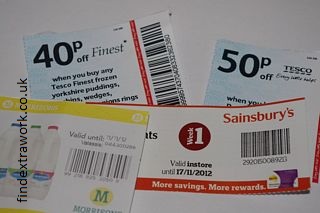 This article will discuss how and where to find these and the advantages and disadvantages of using such free vouchers and offers. There is a website where they can be found which is www.shoppingcoupons.co.uk
Over £100,000 of vouchers to be won - everyone's a winner!
Money Off Coupons For Supermarkets
Most know that free money off coupons for supermarkets can be obtained from schemes such as Tesco clubcard but there are still ways to make the most of them. Saving up the Tesco clubcard points and doubling up at specific times of the year makes the most of your rewards. For example Find Extra Work recently swapped £20 for £40 of frozen food. So we took the opportunity to fill up our freezer with our favourite Auntie Bessie roast potatoes and Yorkshire puddings and McCains chicken dippers for the children.
But don't just stick with one supermarket if you can easily get to another. For example though we don't often get them for Morrsions but we always shop there in November and December for their £30 shopping vouchers when you spend at least £40 for eight weeks. Our top tip is just to spend the minimum needed to qualify by getting offers and 2 for 1 bargains. We then spend the £30 during the Christmas and New Year weeks on food treats and wine.
My Supermarket is a grocery shopping price comparison site designed to save you. It allows you to compare prices across the UK's largest grocery and health and beauty stores. This saves you time and cash by letting you shop online for these cheaper products or allowing you to print off a shopping list. Shop prices at My Supermarket includes Tesco, ASDA, Sainsbury's, Waitrose, Ocado, Superdrug, Boots and Majestic Wines.
Supermarket saving stamps schemes allow you to buy shopping stamps at £1 a time. When you save £50 you get £1 and when you reach £97 you get £3 towards your bill. Though you can buy the saving stamps throughout the year to spread the cost, you can still buy them right up to November and December.
Drivers can benefit with the 5p off petrol or diesel offers at Tesco and Morrsions when you spend a certain amount. Again just try spending the minimum amount so that you have your budget for more offers at other supermarkets. We either do a mental calculation as we shop, do a tally on a scrap bit of paper and even take a calculator round the store.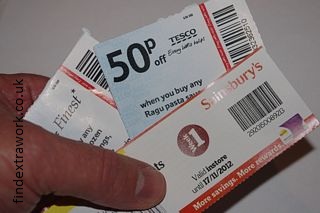 Specific promotion codes can be found on our
Promotional Discount Codes
page.
Follow us on Twitter:
Follow @findextrawork
I have published a book which tells the story of The Grey Lady Ghost of the Cambridge Military Hospital which reveals her origins in the QAIMNS and where she meets a QA veteran of Afghanistan. She still walks her wards and tells her story by taking Scott Grey, a QARANC nurse, to the battlefields of World War One and beyond. This is the first in the series of Grey and Scarlet Novels by CG Buswell.
Read the first chapter for free.
Discount Shopping Vouchers
High street shops and online stores often offer a free discount shopping voucher to entice you to spend and shop regularly. A common one is to get a set amount off a minimum spend. For example you may have seen a £5 off voucher to the online gadget and gift shop PrezzyBox. It can be used by new customers and there is also one for returning customers. To get the £5 customers must spend £25. In some cases people spend more. So it is a win win situation. The company gets returning customers and the customer feels great about saving £5 on every purchase.
Are there any disadvantages of using internet vouchers?
Some shops may recoup the loss of a customer using a voucher by charging extra for postage and packaging. Do be careful of this before hitting the send button and sending in your payment card details. Fortunately in the example of above they do not do this. In fact they offer free delivery when you spend over £25. So it still remains a win win situation.
If you like this page and would like to easily share it with your friends and family please use the social buttons below:
Tweet
If this has not answered your questions or you need some more advice then please e-mail me. I would also welcome any advice to increase the information to make it more useful to others. I would also appreciate it if you were to send our link to your friends, forums and social media.
Automatically add us to your favourites folder -
Bookmark Us
. We update weekly with new earning opportunities.
Do check prices with other shops and websites. Just because you get a £10 discount does not mean you are getting a bargain, the price might be more expensive. Shop around at similar sites and stores and compare the prices. It could be cheaper to buy the item at another place without the coupon.
Some sites will use discounts to obtain your personal details such as address, telephone number and e-mail address. You have to weigh up getting a discount against being pestered with e-mails, mailings or telephone calls.
Some companies will send you a weekly newsletter with products, information and offers to entice you to spend more. This could be useful if you are a frequent shopper and like bargains. It could be an intrusion if you do not like receiving such communication.
Most do have an unsubscribe facility and if you use reputable companies and shops like Tesco or Asda then they are great at respecting this and will remove you from their lists. However I would recommend staying on such lists because you will get sent some great offers and often get sent more. Ask anyone with a Tesco Clubcard.
For example for the last 6 weeks I have received £8 off my weekly trip to Tesco. I had to spend £80 each time to qualify but this was no problem as I shop there and stocked up with items that I can easily use over the coming months and not need to buy when they run out. Another win win situation.
Returning to the Prezzy Box example I get sent a monthly newsletter with their new gadgets and like to read this because it tells me about items that may make great presents for my family and have photos and descriptions. Though the disadvantage is that it entices me to go to their website and spend more!
A variation of entering your details to get them is when you have to enter several e-mails of your friends. These friends will then get sent a newsletter and you get it at the cost of your friends receiving unwanted e-mails. Some friends may thank you and others may not! Some people get round this by agreeing with each other to receive such correspondence for a certain e-mail account that they use for this purpose, perhaps a hotmail account. Each friend benefits in due course by getting them.
Complete Surveys For Rewards
Another way to receive free voucher rewards is to complete surveys for rewards. Based on the questions you answer you will receive them. Some of these survey forms can be completed online or through the post. Do be careful what information you impart and do only use reputable companies. There is more about this way of earning and saving on the
surveys for cash
page.
Another way of getting them is through entering competitions. I've won hundreds of pounds to spend at M&S from The Sunday Post newspaper and book tokens from magazines like The Nursing Standard. These are handy because you don't have to spend to use them; you simply use them on your purchases. The prizes were particularly useful because they arrived just before Christmas. I've written more at the
enter competitions
page.
Free Printable Money Off Coupons
Free printable money off coupons that can be used at your local supermarket like Tesco, Asda or Sainsbury's and used during your normal grocery trip to save off a range of products that you buy during each shop visit. This includes some for toothpaste, dog food, margarine and other spreads, pizza, fruit, sugar, drinks, cleaning products, etc. There are even some available for other shops like Boots.
Coupon values range from 25p, 30p, 50p, £1 and even 25% off prices. Free shopping vouchers are also available for brands such as Lynx, Dove, Nestle, Proctor and Gamble and Glaxo Smith Kline products.
All you need to do is visit our other website Shopping Coupons and read the bottom of the page, visit the described link and then click to tick those you would like and then print them off. Or for an even faster way just click the select all option. Each will have a special code that will be easily scanned by the bar code scanner of the shop till and your free discount will easily be claimed.
After you have joined do bookmark the site because new ones are available regularly. Alternatively subscribe to their newsletter and when new vouchers become available you will receive e-mail notification.
Customer Complaints - How To Complain About Bad Service
Earn Shopping
»
Cash Back
»
Mystery Shopping
»
Test Products
»
Customer Complaints - How To Complain About Bad Service
»
Coupons
Giveaways
»
DVD Rental By Post
»
Cat Food and Coupons
»
Dog Food Samples
»
Books Sent To You
»
Brochures
»
Cinema Ticket
»
Magazines
»
Shampoo Samples By Mail
Sell
»
Auctions
»
Old Used Clothes
»
Flowers And Plants From Your Garden
»
Kleeneze Reviews
»
Kleeneze Cleaning Products
»
Business Opportunity - Work For Yourself
»
Delivering Catalogues
»
Commission Advice
»
Kleeneze Questions and Answers
»
Make Up - Join Avon as a Representative
»
Betterware Distributor
»
Body Shop Consultants Care - Beauty Parties
»
Partylite Candles
»
Hampers – Park Company
»
Pampered Chef Company Consultant - Party Planning
»
Old Mobile Phones
»
Photographs To Magazines And Newspapers
»
Usborne
»
Cosmetic Virgin Vie Make Up
Out And About
»
Put Adverts On Your Car
»
Cleaner
»
Deliver Leaflets – Flyer Drop
»
Dog Walking
»
Fast Food Delivery Driver
»
House Sitting
»
Freelance Interpreter - Translation Employment
»
Teaching Night School Adult Classes
»
Report Crime For Rewards
»
Strawberry Picking
»
Test Drive
Finance
»
Low Interest Debt Consolidation Loans
Google+
Facebook
Twitter